Dentures in Harrisburg, NC - Devine Dental
Restore your smile with Dentures
When people lose one tooth or several permanent teeth due to an accident, illness, or aging, they may experience the negative effects on their self esteem or an inability to chew.
When patients experience tooth loss your dentist can give you back your beautiful smile by implementing a Partial or Full Denture treatment plan that suits your needs both financially and aesthetically.
Advantages of full and partial dentures include improved chewing ability, improved speech, improved aesthetic appearance and improved oral health. The tooth portion of the denture consists of ceramic or ceramic-like material so they are strong and durable. The base of the denture is made of acrylic which fits comfortably over the gums.
Types of Full Dentures


Immediate Dentures: These are usually a temporary means of helping you transition to successful denture wearing. Because of the muscular readjustment required, as well as the natural shrinkage of gums, the dentures which are placed immediately after tooth extraction won't fit as well as permanent dentures made when the healing is complete. They do, however, provide you with new teeth right away, and give you time to adjust.
Conventional Full Dentures: After a period of time, permanent dentures that conform to your mouth with near-perfect accuracy can be fabricated. These are carefully crafted to look as much like your own natural teeth as possible, and are able to function properly in your mouth for a long time.
Implant-Supported (Fixed) Overdentures: To increase the stability of a lower or upper denture, it's possible for it to be securely anchored using two or more dental implants. The upper jaw requires more implants (generally three or more) than the lower jaw due to a lesser bone density. Many people find this option offers a great balance of comfort, functionality and value.
Types of Partial Dentures
Transitional Partial Dentures: These relatively inexpensive removable plastic dentures serve as a temporary tooth replacement and space maintainer as you wait for your mouth to heal from tooth extraction, for example. Once the healing process is complete, dental implants can be placed.
Removable Partial Dentures (RPDs): Usually made of cast vitallium, these well-constructed, metal-based removable partial dentures are much lighter and less obtrusive than those made of plastic. They are a little more expensive than plastic dentures but will fit better. They are, however, much less expensive than implants or fixed bridgework.
How Dentures Are Made and Fitted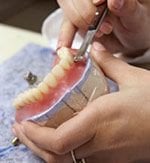 Making quality dentures is a blend of science and art. First, an accurate impression (mold) is made of the alveolar ridges on the top and bottom of your mouth. The base of the denture is made from this mold in a dental laboratory. Working together, the dentist and lab technician choose from among many different sizes and shapes of prosthetic teeth to re-create a natural-looking smile. When everyone is satisfied with the result, the temporary dentures are made in permanent form.
To enable normal speech and eating, it's crucial to balance your bite. This means that the upper and lower dentures come together and properly stabilize each other. The form and function of the dentures are carefully checked to ensure that they are working and fitting properly.
Full and Partial Denture Treatment Process
Your dentist will take an impression of your teeth and jaw alignment and match your dentures to the color and shape of your teeth. Temporary dentures will be provided to patients transitioning from failing teeth to dentures.
For patients transitioning to a full denture, the denture is created after all remaining teeth have been removed and the gums have healed, a process that takes around 3 months.
For patients receiving partial dentures, replacement teeth are bonded to a gum-colored base which is attached to a metal framework – this framework is held in place by attaching to the natural teeth on either side of the empty space.
Flexible Partials
Flexible partial dentures are an alternative to the traditional rigid metal-based dentures. They don't require rigid attachment to the remaining natural teeth, provide a better fit and look more natural.
The appeal of flexible partials has to do with their better design, fit and materials. They are also made more quickly than traditional dentures, and the nylon resin does not break.
Restore your smile with Dentures at Divine Dental in Charlotte, NC
Contact our office to learn more and schedule your consultation at (704) 548-0870 today!